THE GroundWOW® Product range
The GroundWOW® range of autonomous ground printers gives you everything you need to make printing on ground as easy as printing on paper. Our technology is available via a range of affordable monthly subscription fees to suit every budget and to deliver everything from brand sponsorship, advertising, communications to fan engagement. Learn more about the product range below.
SFX PRO® - GO PRINT
Go Print with the GroundWOW® SFX PRO™ ground printing robot, the World's first full colour autonomous ground printer and cloud-based print management software. 
SFX PRO is for activating pitch side branding without the need for plastic stencils. Printing up to 3 colours simultaneously on Astro or grass, SFX PRO creates images up to 1m wide and up to 9m in length. 
Upgrade to SFX MAX at any time to print wider and faster. Go Wider, Faster.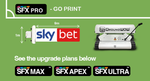 SFX MAX® - GO WIDER & faster
Go Wider & Faster with GroundWOW® SFX MAX™, taking pitch side branding, and other ground advertising locations, to the extreme. 
Printing in Turbo speed, and up to 6 colours, SFX MAX supercharges your sponsorship and branding campaigns with stunning, pixel perfect ground printed images up to 2.3m wide and an unlimited length on grass, Astro, or asphalt. 
Upgrade to SFX APEX at any time to print even bigger. Go Bigger.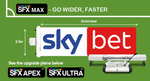 SFX Apex® - GO BIGGER
Go Bigger with GroundWOW® SFX APEX™ to create stunning grand scale ground advertisements. 
At an impressive 9m x 9m print area, and printing up to 6 colours simultaneously SFX APEX achieves perfect edge-to-edge print tiling accurate to within a blade of grass.  The 'GO BIGGER' kit includes an advanced grand scale art print management dashboard, superior autonomous navigation, and accurate positioning equipment as standard.
Upgrade to SFX ULTRA at any time to print literally unlimited. Go unlimited.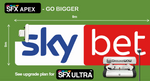 SFX ULTRA® - GO UNLIMITED
Unlock the creative capabilities of your land with SFX ULTRA – GO UNLIMITED, pushing grand scale ground advertisements into 'ludicrous' mode (great word, thanks Tesla).
Go unlimited means UNLIMITED ! Print any width, any length, in up to 6 colours simultaneously.  If your campaign involves NFL endzones, or if you want your campaign to be seen from the top of a sky scraper, from an aeroplane, or from space, then SFX ULTRA is for you.
The "GO UNLIMITED' kit brings you all the advantages of the turbo charged SFX MAX and the superior SFX APEX navigation in a complete package.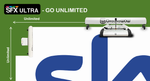 SUBSCRIPTION's & Upgrades
If you need any help or advice selecting the correct robot for your venue, then please get in touch and we will be happy to assist.
Model

Print Size (W)
1m
2.3m
9m
Unlimited
Print Size (L)
9m
Unlimited
9m
Unlimited
Print Surface
Grass / Astro
Grass / Astro
Grass / Astro
Grass / Astro
Simultaneous Colours
3
3
6
6

Print Speed

Standard
Turbo
Standard
Turbo
Hardware
SFXPRO Printer
SFXPRO Printer,
3m Printer Head
SFXAPEX Printer,
"Go Bigger" Kit
SFXAPEX Printer,
"Go Unlimited" Kit
Service Pack
2 User Accounts*
1 System Service / Yr*
2 User Accounts*
1 System Service / Yr*
2 User Accounts*
2 System Services / Yr*
2 User Accounts*
2 System Services / Yr*
Logo Setup
2
3
4 (9m x 9m)
4 (Unlimited Size)
Subscription
Available Add-ons
6 colour upgrade £25pm
Extra User Account £50pm
Maintenance £50pm
Custom Wrap £500
6 colour upgrade £25pm
Extra User Account £50pm
Maintenance £75pm
Custom Wrap £750

Extra User Account £50pm
Maintenance £90pm
Custom Wrap £500

Extra User Account £50pm
Maintenance £115pm
Custom Wrap £750
Print Size (W)
1m
Print Size (L)
9m
Print Surface
Grass / Astro
Simultaneous Colours
3

Print Speed

Standard
Hardware
SFXPRO Printer
Service Pack
2 User Accounts*
1 System Service / Yr*
Logo Setup
2
Subscription
Available Add-ons
6 colour upgrade £25pm
Extra User Account £50pm
Maintenance £50pm
Custom Wrap £500

Print Size (W)
2.33m
Print Size (L)
Unlimited
Print Surface
Grass / Astro
Simultaneous Colours
3

Print Speed

Turbo
Hardware
SFXPRO Printer,
3m Printer Head
Service Pack
2 User Accounts*
1 System Service / Yr*
Logo Setup
3
Subscription
Available Add-ons
6 colour upgrade £25pm
Extra User Account £50pm
Maintenance £75pm
Custom Wrap £750

Print Size (W)
9m
Print Size (L)
9m
Print Surface
Grass / Astro
Simultaneous Colours
6

Print Speed

Standard
Hardware
SFXAPEX Printer,
"Go Bigger" Kit
Service Pack
2 User Accounts*
2 System Services / Yr*
Logo Setup
4 (9m x 9m)
Subscription
Available Add-ons

Extra User Account £50pm
Maintenance £90pm
Custom Wrap £500

Print Size (W)
Unlimited
Print Size (L)
Unlimited
Print Surface
Grass / Astro
Simultaneous Colours
6

Print Speed

Turbo
Hardware
SFXAPEX Printer,
"Go Unlimited" Kit
Service Pack
2 User Accounts*
2 System Services / Yr*
Logo Setup
4 (Unlimited Size)
Subscription
Available Add-ons

Extra User Account £50pm
Maintenance £115pm
Custom Wrap £750
Features
SFX Software Features
Print Management
Upload logos &amp set dimensions
Precise Image Scaling
Schedule Print Jobs
Plan Campaign and Events
Create Campaign Calendars
Inventory Management & Analytics
Real Time Paint Monitoring
Printer Fleet Management
E-Commerce
Order Paints
Create custom paint orders
Track Orders
One-click upgrade
Helpdesk
Online Tutorials
Get support
24/7 access
Account Management
SFX Printer Features
Hardware Management
Autonomous Printer
Variable Pixel Size
Rugged splashproof user tablet
WIFI enabled
Cellular capability
Differential drive
Industry Approved tyres
UV stable body
Water resistant to IP44
12 Hour battery life, 3-hour charge time
Emergency shut off